Video Editing Literature…and More!
Drewsim.com – your windows video editor review would be remiss if we did not include a posting which recommended video editing literature. Are you a novice video editor, completely new to making movies, digital photo slideshows, copying DVD and Blue-Ray discs, authoring your own discs, or turning your home movies into DVDs for long term storage? There is much to be learned, and there are many titles out there to assist you. The "Dummies' series of books are always a good way to start your education!
The Dummies Series
Despite the "dummies' moniker, this series is actually well written and covers many, many subjects. Adobe Premiere Pro provides a very good introduction to the program, and is well worth the money.
---
Click on image link to buy!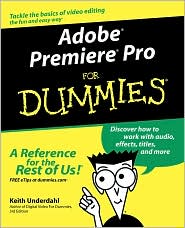 Adobe Premiere Pro For Dummies
Build a studio that lets you edit like a proChoose the best video clips, create brilliant movies, and distribute your workAre you new to video editing? Want to craft a movie like a Hollywood pro? This essential resource gets you started on your filmmaking adventure. You'll discover how to do everything from preparing your production studio and shooting video to adding spectacular effects and burning a DVD. In no time, you'll become an Adobe Premiere Pro expert!Discover how!
---
Digital Video for Dummies
---
Click on image link to buy!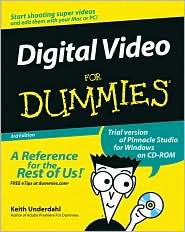 ---
So you have a camcorder and visions of being the next Spielberg. But how do you progress from shooting so-so footage to showing your own finished movie? Digital Video For Dummies, 4th Edition gives you the know-how and the show-how! Find out how to shoot and edit great movies, using iMovie, Windows Movie Maker, or Adobe Premiere Elements to add the finishing touches like special effects and your own soundtrack. With the latest information and lots of illustrations and screen shots, this friendly guide walks you through:
Getting your computer ready to work with digital video (complete with information about FireWire)
Choosing a camcorder, including features to look for and features that are useless
Digitizing old VHS videotapes to preserve memories
Purchasing other movie making gear, including audio and lighting equipment
Shooting better video, with tips on lighting, panning, using the zoom, and recording better audio
Creating your own sound effects such as footsteps, bones breaking, fire, thunder, insects buzzing, and more
Capturing digital video using iMovie, Windows Movie Marker, or Premiere Elements
Editing, including understanding timecode, organizing and previewing clips, and assembling clips in Storyboard and Timeline
Adding transitions, titles, and special effects
Importing and integrating video from phones and digital cameras
Using audio rubberbands in iMovie, Premiere Elements, and other editing programs
Adding narration, importing and working with CD audio, and adding a music soundtrack
Keith Underdahl has extensive professional video production experience developing kiosk and marketing videos for Ages Software. Realizing that you'll want to polish and premiere your movie, he includes information on:
More advanced video editing, including animating video clips, improving light and color, compositing video (bluescreen or greenscreen), and more
13 categories of video effects, ranging from blur and sharpen to transform
Working with still photos and graphics
Sharing your video online using QuickTime (/QT), RealMedia (.RM), or Windows Media Video (.WMV)
Making tapes or burning DVDs in 9 steps
With a handy cheat sheet of keyboard shortcuts, a chart comparing 10 video editing programs, a glossary, and more, with this guide you'll soon be saying "Lights, camera, action" and producing your own movie attraction.
Computer Repair and Upgrading

Since the PC or laptop is a critical component in editing and creating your video discs, it is not a bad idea to have some "how to" repair and upgrade books to hand. Check out Scott Mueller's "Upgrading and Repairing PCs" series – now in its 20th edition. This is one of the best books on the subject. Now available in a NOOK book edition! Click on the image link to find out more!
Another good reference to have around comes from the "Dummies" Series. It is easy to make fun of the title, but it has been my experience that the "Dummies' series is quite substantial in content, and is not "dumbed-down" at all. "PCs for Dummies" contains all the information you'll need to keep your machines up to snuff. Click on the image link to find out more about it!
---
---
NOOK® Back To School Offer – Get a FREE $50 Barnes & Noble Gift Card when you buy NOOK Tablet – 16GB, plus Ships Free. Limited Time Only! Hurry offer ends 7/29, 11:59am EST
---